<![if !vml]>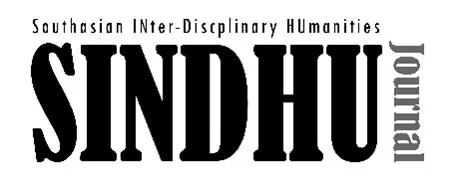 <![endif]>
Vol. 1 No. 1 (2021)                                                                                    
Jhootha Sach: Yashpal's Lahore and Mine
Shabnam Syed Khan
Abstract
In Yashpal's novel Jhootha Sach, the pre-1947 Lahore and its residents are the metaphors of the loss of home and identity of the people who were displaced during the Partition of the Indian Subcontinent. The mind-transforming contents of Jhootha Sach are the inspiration behind the interconnected literary (Jhootha Sach: Yashpal's Lahore and Mine) and visual (Lahore becomes my own / It was only a matter of changing my position of gazing) composition I call the MindfulApp. Using "Yashpal's Lahore" as the symbolic unit of analysis, the Mindful App as a cathartic and mind-transforming tool is designed as an invitation to warring Indians and Pakistanis to understand the alternative realities they harbor about the 1947 Partition. Just as Yashpal has hoped for communal harmony in Jhootha Sach, the MindfulApp is also put together to spur an empathetic view of both the One-Nation or the Two-Nations Theory among the chronically estranged Indians and Pakistanis.
Keywords: Yashpal, Lahore, 1947-Partition, One-Nation or Two-Nations Theory, mind-transforming, interdisciplinary-research.
***
<![if !mso]>

<![endif]>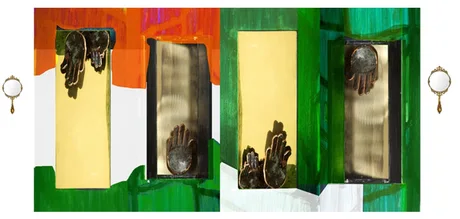 <![if !mso]>

<![endif]>
Figure. 1. Digital Art. "Lahore becomes my own / It was only a matter of changing my position of gazing."
<![if !mso]>

<![endif]>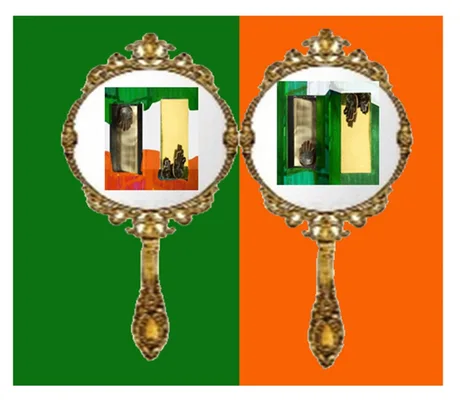 <![if !mso]>

<![endif]>
Figure. 2. Digital Art. "Lahore becomes my own / It was only a matter of changing my position of gazing."
Overview
The twin activity of writing this essay, Jhootha Sach: Yashpal's Lahore and Mine, and the creation of the accompanying digital art entitled "Lahore becomes my own / It was only a matter of changing my position of gazing" (See Figure 1 & 2),1 is my aesthetically-informed interpretation of the Partition of 1947, which Yashpal has narrated through the pre-1947 city of Lahore, in his award-winning novel Jhootha Sach. With the backdrop of the data comprising of the memories of the characters in Jhootha Sach, I use the Theory of Emotionally Durable Design (EDD)2 to analyze the historically conflicting constructs, namely the "One-Nation" or "Two-Nations," which continue to frame the Indian and Pakistani arguments in favor and against the Partition. The resulting interdisciplinary inquiry is a literary and artistic oeuvre, which together constitute an empathy-inducing and mind-transforming multimedia installation I call the MindfulApp.3
Jhootha Sach: A Mind-Transforming Context
Situated in Lahore—the city fondly gushed at as Lohr Lohr ai (Lahore is Lahore)—Jhootha Sach is a discourse-shaping account of the 1947 Partition of the Indian subcontinent. As I process the mayhem of Partition exclusively through the prism of Jhootha Sach, the pre-1947 Lahoris' experience of Partition emerges as a self-transforming context: the impeccable and nonpartisan manner in which Yashpal handles this volatile topic of Partition nudged me from my single-window position of viewing my hometown Lahore and the 1947 Partition. The alternative position has placed me in a transformational relationship with the pre-1947 the then-Lahore and the Lahoris that Yashpal introduces through the different sites and characters in Jhootha Sach.
In Jhootha Sach, the city of Lahore becomes a metaphor for the loss of home and identity for the 1947 Partition refugees. The contemporary developments in regional politics show that the existential angst generated by Partition, even after seventy-four years, has not abated. The tragic event like the 1947 Partition should have produced literary works that create opportunities for healing and catharsis (Kamra). Jhootha Sach is one such creative endeavor towards the amelioration of injured selves of refugees. It comes across as an appeal to overcome the political and emotional split between India and Pakistan: By not demonizing one or the other side (India or Pakistan), it placates the warring actors on both sides of the border and serves as a nonpartisan interlocutor. It gives the attentive readers a point of departure to see the conflicting views that Pakistanis and Indians harbor about Partition with equal empathy.
The MindfulApp: a Cathartic Podium
The MindfulApp portrays the adversarial points of view Pakistanis and Indians hold about the 1947 Partition. By giving equal credence to both, the MindfulApp, as a cathartic podium, with its written and visual segments, is conceived as mind-changing navigation between the two Lahores: Yashpal's and mine—the pre-1947 and the post-1947 Lahore. It is where the post-Partition Indians and Pakistanis, the Other to each other, are invited to commit to a re-examination of their existing motivations and beliefs that appear to nurture their anger about Partition and to review the unsettled question: if they are One-Nation or Two-Nations? It encourages them to talk. However, the question is how to talk?
In Kegan and Lahey's How the Way We Talk Can Change the Way We Work, I found the "mental machine" which has helped me in conceiving the MindfulApp as an aesthetically charged mind-transforming contraption. The "mental machine" is used for "activating internal" and "productive conversations" with oneself; and so do their prescribed "three on-the-deck exercise" (13, 15, 38, 215): In the same spirit, the MindfulApp is meant to coax the warring sides to step back: 1. from their respective vantage points; 2. from their take on the conflict; 3. from their take on the Other's side. These three "deconstructive" tested steps of the exercise, Kegan and Lahey assure, alter long-held rigid perceptions, and set free the mindsets that are imprisoned in the grip of debilitating mental assumptions (227).  It is amazing, that these developmental paces also uncover that "immunity to change," which disables individuals and groups to accomplish even the most sincerely sought after changes (Kegan and Lahey, "Immunity to Change" 32).
The practical and conceptual mechanism inherent in the postmodern psychological framework of this "mental machine" reminds me of Martin Buber's Ich und Du and Rabindranath Tagore's concept of genuine connections (Roy). Both the constructs echo, beautifully, the 13the century sage Jalal-ad-Din Rumi's grand philosophy of I and Thou (Ghazazani and Alizamani) or the ideal of shared humanity. In the scheme of the desired transformation and expansion of consciousness, the MindfulApp draws further stimulus from the hazards of what Kegan and Lahey call the language of "blaming" and "complaining" (13, 33). In the context of Partition, the venomous language has kept alive the toxic memory of traumatic migration; the one that led to the violent and forced up-rootedness of persons and personhoods (Dalrymple). The MindfulApp is meant to assist both Indians and Pakistanis to come to a conscious decision of confronting the emotions of disillusionment and mutual distrust by switching over to the "language of commitment" and the "language of personal responsibility" (Kegan and Lahey 21, 34); yes, to confront, and not to mystify the historical One-Nation or Two-Nations conflict in question. This type of transformational discourse is liable to lay bare the unfulfilled deeper desires and allegiances; to help reach out to fresh perceptions of the Self and the Other-as-I; ultimately to change minds, and to bring some calm to the agitated humanity on both sides of Indo-Pakistan border. The "transformation highway" (Kegan and Lahey 229), I see laid out in Yashpal's Jhootha Sach, is so uncannily similar to the philosophy of seeing the Other as I; in the intimacy of relationship and pain of separation:
Listen to the reed how it tells a tale, complaining of separations—
           Saying, "Ever since I was parted from the reed-bed, my lament hath
caused man and woman to moan (Rumi quoted in Papan-Matin 2).
Lahore, the Central Unit of Analysis
Placing Yashpal's Lahore as the central unit of analysis, I use the MindfulApp to track and appropriate artistically Yashpal's view of Partition and the One-Nation or Two-Nations dilemma, which he has immortalized in Jhootha Sach:
First glimpsed in its humdrum and cheerfully quotidian aspect at the beginning of the novel, it soon develops splinters and is then devastated out of recognition as its inhabitants flee helter-skelter to save their lives. (Yashpal, Introduction).
Reading the highly emotive contents of Jhootha Sach, it occurred to me that without making sense of Yashpal in Lahore and his longing for Lahore, we would not know the real Lahore, and not knowing real Lahore is to not know what Partition did to the people of Indian Subcontinent. Not to see what Yashpal sees in Lahore, as Lahore, his Lahore, is akin to a fundamental distortion in understanding the identity of this historically phenomenal city of the Indian subcontinent, the city from which the pre-and post-Partition residents of Lahore draw their Lahori identity (Hassan).
Yashpal's family was not from Lahore. Due to his poor health, his mother moved him from their village in Kangra hills, and the family settled in Lahore. In the following years, between 1917 and 1945, he kept moving in and out of Lahore. However, the years he spent in Lahore were academically and politically the most formative and tumultuous. As a college student, and as a member of The Hindustan Socialist Republican Army (HSRA), Yashpal, in the company of other freedom loyalists like Bhagat Singh, honed his political ideology and nurtured a network of close like-minded compatriots, in Lahore. The bomb factory, where he and his friends spent dramatic times putting together bombs and planning armed struggle against the British was in the heartland of Lahore. It was again in Lahore that Yashpal met Prakashvati, his future wife. Inspired by his political work, Prakashvati had left the security of her home and opted instead for the difficult life of a revolutionary's partner. His comrade-in-arms, she was from the Old Walled City, the nucleus of Lahore (Friend). It was the same neighborhood that forms the core of Jhootha Sach.
In his memoirs, Yashpal Looks Back, Yashpal explains that though his life was spent in different parts of India, he turned to Lahore in times of emotional and physical distress. He admits that the "only friends I could trust were my friends in Lahore" (Friend 163). Yashpal's amorous pinning for Lahore, which comes across powerfully in his memoirs and Jhootha Sach, could have intensified due to his forced exile from there. In 1932 his six-year-long imprisonment on charges of sedition kept him away. Even after he was set free in 1938, he could not return to Lahore because there was a ban on his entering the Punjab region. Almost a decade before Partition, he reluctantly settled in Lucknow. So, he was not in Lahore when Partition was announced in 1947. He did not personally witness the violent riots that forced the non-Muslim population to leave Lahore forever. Ironically, he visited the city in 1955, where, even after nine years of pernicious Partition disturbances, the remnants of anarchy were evident. Devastated to see Lahore, he wondered:
Is it the same Lahore that I had last seen in 1945 for a couple of days and whose grandeur still lived in my imagination? Instead of a fair-ground, it seemed to be a graveyard... My Punjab and Lahore were gone; could not one preserve even a memory of them? And the anguish of collective memory due to communal ill-will? (Yashpal, Introduction).
It was Yashpal's ardent attachment and gnawing nostalgia that he chose Lahore to document the ordeal of Partition in his masterpiece novel Jhootha Sach. The first part of the novel is entitled 'Vatan aur Desh', and Yashpal, with "an artistic masterstroke…identifies 'vatan' above all with just one narrow street in Lahore, Bhola Pandhe ki Gali, near the Shahalami Gate…" (Yashpal, Introduction).  Perhaps Yashpal's dedicated attachment to Lahore derives its energy from the unique disposition Lahore has always commanded: Among the cities of the Indian Subcontinent, Lahore is the one city that has a uniquely indulging claim to an equally indulging unique historical and cultural profile. The place's persona is so enticing that people across the Indo-Pak borders are still, after seventy-four years, captive of the real and imagined ideal of Lahore (Kumar), including those post-partition generations who have never lived or been to Lahore (Shashank).
Historian Kanhaiya Lal's adoration of Lahore is obvious in his book Tarikh-e Lahore. After his first posting to Lahore, he developed an extraordinary fondness for it, the one city that exuded unusual grandeur and was known for its temperate weather and opportunities for upward mobility (Mahmud). Mehmood Ul Hassan's Shehr-e-Pur-Kamal, a narrative about Lahore, revolves around the recollections of the three stalwarts of Urdu literature, Krishen Chander, Rajinder Singh Bedi and Kanhaiya Lal Kapoor. All three, who had to leave Lahore at the time of Partition, associate the flourishing of their literary genius with their time in Lahore. Away from Lahore, they all report experiencing lingering intellectual malaise. Rajinder Singh Bedi lost speech for few months after his forced expulsion (Hassan). Kanhaiya Lal Kapoor, who settled in a small town called Moga in Ferozepur District, in India, missed Lahore so much that he fell into a depression. Ishtiaq Ahmed while referring to his correspondence with Krishen Chander states that after moving away from Mohni Road Lahore, Krishen Chander's writings drifted from the evocative satire he had been writing to dry cynicism. Quoting from a letter, dated February 21, 1977, Ishtiaq Ahmed underscores what Krishen Chander had to say about the city: "Lahore is where I was educated, where I achieved fame. For people of my generation, it is difficult to forget Lahore. It shines in our heart like a jewel-like the fragrance of our soul" (Ahmed).
Maulvi Abdul Haq, using an anecdotal account, provides an outsider's lens to feel the affection one feels for the arcane character of Lahore. Referring to the impressions of Khalida Adeeb Khanum, a Turkish scholar and freedom fighter, who visited India and travelled to almost all the major cities, including Delhi, Aligarh, Lahore, Peshawar, Benaras, Calcutta, Hyderabad, and Bombay, Haq shares rather seductively partial observations she made of Lahore and Lahoris:
Of all the cities seen so far, Lahore appears to be the wealthiest. The adjoining villages too look well-off. As compared to other central metropolises, its state is better. Each individual is generally lively, well-fed, and healthy. In facial and physical appearance, most Lahori men could pass as models of good looks and robust physical appearance (459, 60).
Like the above literary testimonies to Lahore's distinctiveness, Jhootha Sach too exudes a passionate bias for Lahore - the intimacy that is usually exclusive for the motherland. During my research, I came to know that perhaps there is no other city in the Indian subcontinent that has triggered this unusual kind of effable and ineffable mass nostalgia that continues long after 1947. It finds its reverberation in Bollywood movies, videos, pop songs,4 and the renowned proverbs such as Lhore Lhore hai (Lahore is Lahore) and Jinnay Lhore naiN wakhaya O' jammia Nahin (Whoever hasn't seen Lahore isn't born).
From such spontaneously passionate, nostalgic and laudatory proclamations and other attractive historical characterizations of the city, the post-Partition Lahoris like me draw a special sense of sustenance and entitlement to nurture a Lahore-centered self-identity. This self-assigned privilege is often flaunted during casual encounters with Indians. If I run into someone like that at the airport, I sense that their interest in me is merely because I am travelling back to, or arriving from, Lahore. I can see that they are curious about me because I am a Lahori! One such chance meeting with an Indian Punjabi stands out in my memory. He told me wistfully that in his family when something good happens, they exclaim aj tai Lohr ho giya (Today Lahore happened)!
In my excitement of sharing my stories of Lahore with Indians, I realized—only after reading Jhootha Sach—I had overlooked the hurt and longing in their gaze. It did not occur to me that they must miss their Lahore. In the short time we had to converse, they made me privy to their intimate memories, as though I was a part of their lost Lahore. Perhaps, I reminded them of the most exciting times their families spent in Lahore; exciting because they were the times of dreaming and planning for what was to be the best in their lives. It is possible they also saw me as an alien that had gatecrashed to take possession of what was their undisputed turf, or maybe, I hoped optimistically, they smelled on me the fragrance of the associative memories of the imagined best they left in Lahore. This was the same Lahore which was once their family home, and was now, and will continue to be, for the coming generations, their soul-home, which they yearn for, and which tragically the insurmountable emotional and political differences had now made inaccessible to them. Following is the excerpt from an email from a pre-Partition refugee who wrote on behalf of his wife Anjana Khurrana:
The house is in Sant Nagar…the street to Krishan Nagar was less than 5 minutes away from our house. The three sides of the house had open space. There were 5 or 6 steps in front of the main entrance. The Building plate will be either Sekhari Bhawan or Sekhari Niwas, which is likely still there. My father's name was Gauri Shanker Sekahri... (Khurana, Ram. "Re: Lahore: Sekhari Bhawan."  Received by Shabnam Syed Khan, March 15, 2014).5
It is for such impassioned and deep associations that Lahore continues to be celebrated at scholarly as well as at mundane levels (Arshad). Adoring Lahore is like a sacred ritual, often adhered to without a second thought. Drawing rationale from a settled status of veneration, Lahore as a city has been enjoying this elevated position for centuries, and, almost as a given. Lahoris, of the pre-1947 Lahore and of the post-1947 Lahore, love to boast Lohr Lohr ai (Lahore is Lahore).
Lohr Lohr ai
Why is Lahore Lahore? Yashpal's Jhootha Sach offers one most crucial and foundational clue to this question, one that has not been fully probed before, and which I believe is at the heart of the truism, Lohr Lohr ai! The hint to this question is presented so powerfully in Jhootha Sach that it also offers me an opportunity to recast my near fixed Lahori status, which the reading of Jhootha Sach appears to have obliterated for good: that despite having a home in Lahore, and access to the paraphernalia of attachments to the city, I have begun to miss the habit of being Lahori. What seems to have slipped from my grasp is perhaps this habit, not the actual Lahore.
Jhootha Sach and Yashpal
Yashpal
It was an afternoon in the fall of 2017, when the postman handed me a partially wrapped Urdu book, entitled Jhootha Sach. The name of the author, Yashpal, was unknown to me. "Some Hindi writer?" I wondered. However, the sheer volume of this new novel appealed to my penchant for thick novels. Secondly, the book was about Partition, one of the topics that I find close to my heart. Although I belong to the post-Partition generation, I identify passionately with the pain my parents and grandparents felt for their homes and neighborhoods, which they had to leave in what became India in 1947.
Standing in the front courtyard of my home in Lahore, with this newly delivered volume in my hand, I recalled Yashpal, the grand revolutionary. Coupled with the narratives of Subhash Chandra Bose, Lala Lajpat Rai, Chandra Shekhar Azad, Bhagat Singh and other famous Indian freedom leaders, the stories about Yashpal were narrated to me by my mother in her endless stories of the freedom fighters of united India. It was only after reading his memoirs, Yashpal Looks Back (YLB), I discovered that Yashpal the freedom fighter and Yashpal the author of Jhootha Sach, the magnum opus of Partition literature, were the same (Friend 211).
Jhootha Sach
Translations from Hindi, the Urdu and English versions, by Munira Surti and Anand respectively, of the novel, Jhootha Sach, are absolute masterstrokes. They seem to radiate the passion and the literary standards of the original Hindi narrative.
Jhootha Sach compels the reader to experience an immersive form of an ethnographic tour of the pre-1947 Lahore. It beckons the reader to the intricacies of the descriptive and rhythmic cadences of the private and public lives of the people who lived in Lahore. These Yashpal has documented with a flourish -- from the lives lived within and extending far and beyond the narrow lanes of the old Walled City of Lahore, to the comparatively new upper middle-class neighborhoods of Gwalmandi, Krishan Nagar and Sanda, all the way to the very modern and elite suburbs of Model Town.
Once past the first few chapters, when one begins to develop an attachment to Yashpal's Lahore, the reader's rapt attention, like the grounded and peaceful lives of the residents of Lahore, is rudely unhinged. The unexpected and rapid eruptions of the sectarian violence that engulf the entire length and breadth of the city put the city and the people in a stupor. With the successive shocks, first of the killings, loot and arson, the abductions of women, which culminate into the most unpredictable forced evictions of non-Muslims from their ancestral homes, followed by their incarcerations into the refugee camps in Lahore, the beautiful story of Lahore and the Lahoris that Jhootha Sach is, turns into the portrayal of a long and numbing nightmare.
There is no question that other great Urdu writers, such as Intezar Hussain, Mumtaz Mufti, Quratulain Haider, and Abul Hassan Naghmi, who migrated from India, have also elaborated about how the city of Lahore embraced them in those trying times. The reminiscences of Khushwant Singh, who had to leave his home in Lahore, provide a nostalgic glimpse of his affluent, leafy Lawrence Road home and the sketchy routine of the shared communal life with his Muslim neighbors and friends (Singh). The descriptions of Urdu fiction writer Ram Lal's house, sandwiched inside the alleys of Lakshmi Chowk area, give a fleeting sense of pre-partition Lahore (Lal). Pran Nevile's Lahore-A Sentimental Journey is an evocative tribute to the land of his birth along with details of his irrepressible passion for the city (Nevile).
However, these fondly narrated memoirs and fictions don't embody the minute details of the larger and the cohesive political and sociocultural lived realities that pulsated through the cross-section of the economically and ethno-religiously diverse Lahori population. Yashpal's Jhootha Sach manages to raise the curtain on this complexity, and first brings to fore the multi-layered diversity of the carefree, teeming humanity of Lahoris and their equally distinctive and dynamic neighborhoods that were an integral part of pre-Partition Lahore.
 Yashpal puts more of himself in narrating Lahore than anyone else. His subjectivity is that of an artist who accompanies his readers, in capturing both the gaiety and gloom of the city. And when we are there with him, we sense that he is at home in the joy and grief of his Lahore. Then, as if to rouse the whirlpool of contrasting feelings, he proceeds to forcefully document the harrowing details of both the erratic and planned bludgeoning and dislodging of the dynamic, centuries-old edifice of Lahore and Lahoris.
Notwithstanding the strong affinity I have for my ancestral hometowns in India, I have grown to think of Lahore as my only hometown. But the supposed fiction of Lahore in Yashpal's Jhootha Sach is composed with a hungering for home and the lost self of the Lahoris of pre-partition India that I feel irrevocably connected to their trauma, much more acutely than the experience of my displaced ancestors from India.
Yashpal's Lahore
In the one-thousand and more pages of Jhootha Sach, Yashpal creates the collective longing that is emblematic of the homesickness of the refugee state of mind. His compulsive homesickness for Lahore, which he chronicles in the novel, has that abiding whiff of permanence as if he wishes to embrace the gnawing yearning forever, to never get rid of its pain.
The first 450 pages of Jhootha Sach are focused completely on the pre-1947 Lahore and the people of the then-Lahore. And when one reads through the remaining pages, comprising the post-Partition narrative, one finds them sprinkled with mentions of "Lahore." In all of the 1017 pages, lingering memories of the home or gali sneak in until the very last chapters, to the very last lines.
Whither Bhola Pandhe Ki Gali, Gwalmandi, Model Town…
Puri was roused gently from the delicious languor of his morning sleep. The sweet strains of Khushal Singh singing the morning chant [bhajan] wafted through the window. (Yashpal 97)
As I continue my reading, I find that the novel's main characters, Jaidev Puri and his sister Tara, live with their parents, Master Ramlubhaya and Bhagwanti, and the two siblings, Usha and Hari, in the lower-middle class Hindu neighborhood. Ensconced inside the labyrinth of narrow lanes, their one-room house is on the Bhola Pandhe ki Gali. Right behind the constricted market place known as Machi-Hatta-ka bazaar (where Yashpal last lived in Lahore), the Bhola Pandhe ki Gali is in the Shahalami Darwaza inside the Walled City of Lahore. At the other end, a long, narrow passage connects it to Mochi Darwaza, which is an overwhelmingly Muslim mohalla.
The Bhola Pandhe ki Gali residents, Puri and Tara, are shown navigating the intricate network of the narrow galis daily, the adjoining cluster of the wide roads forking in and around the Circular Road that runs around the wall of old Lahore. Through the movements of these characters, roaming around, venturing in and out of domestic and public spaces, Yashpal provides readers almost a guided tour of the Lahore of before 1947. Whereas Puri, Tara and their extended family and neighbors portray the minutiae of the old city and its conventional life, Kanak, Puri's sweetheart, shows us how the professional elite live. She takes us to Model Town on the outskirts of Lahore where Nayyar, her brother-in-law, has a sprawling bungalow. Life in Kanak's father Pandit Girdharilal's home, which is in the upscale area of Gwalmandi includes both a domestic and literary sphere. The sheen of that unique living arrangement, of erudition and domesticity combined, of the informal and the formal, is noteworthy:
The family living room was next to his [Pandit ji] office. When he finished his office work around six and sat down for tea in the living room, he would call Kanak and his youngest daughter Kanchan to join him. Kanak's mother was quiet and withdrawn and seldom spoke more than two sentences at a time. If all the kitchen work were over, she would begin to wash clothes. When there were no dirty clothes, she would mend the washed clothes and sew on buttons. Or she would just pick and clean enough spices, lentils and grain for grinding to last the family a month. She always seemed busy. (Yashpal 34).
I find Lahore taking on a life of its own, its identity, when Jhootha Sach's main characters Puri, Tara, Kanak, and their friends, in their daily routine of going to college, to work, to meet friends, acquaintances, lovers, nemesis, reveal the existence of a close-knit network of an amorphous community: they are all not Hindus. Yes! Not all Hindus! And at the time of their agitation against the British government of the time, the Hindu, Sikh, Muslim inhabitants of Lahore come together with undisguised camaraderie.
Through the communal identities of the friends, Puri and Tara interact Yashpal brings the readers to the ideologically and religiously flexible communal life his Lahore relies on. He highlights, endorses, and makes extraordinary efforts to show that Hindus, Sikhs, and Muslims of Lahore intermingle socially. They are friends. They nurture romantic liaisons. They loiter around Lahore and attend the political rallies Lahore is known for. They share food, just as they share the ideological and political aspirations for an India without British colonial rule. I can see that Yashpal is desperately trying to reveal the true picture of his Lahore: The office of Pairokaar was at the junction of Anarkali bazaar and Ganpat Road.
 Yashpal gives this inter-communal Lahori milieu a near tangible presence when Puri is shown climbing down his Anarkali office stairs and shouting at the chanting crowd, he says: "What's this nonsense! You are marching to support the demand for Pakistan?" (Yashpal 77). Asad, Puri's Muslim friend, cajoles Puri: "We won't allow any slogans asking for the break-up of the country…" He assures Puri that the Muslims too oppose the Partition of India. He tries to explain that "the demand for Pakistan is"
Only that there would be a Congress Ministry in one province of Hindustan and of the League in another province. This is a demand for self-determination! We only want the Congress and the League should join forces." Asad puts his hand on Puri's shoulder, "If they say anything like 'We must have Pakistan' …we won't march with them." (Yashpal 77)
Puri, somewhat relieved, requests Asad to "look after Tara…" and "see her home" (Yashpal 77). This is the Lahore where Puri could tell his Muslim friend, Asad, to escort his sister Tara home, this is the home Yashpal seems to crave to return to, and which he wants to be preserved. The one Lahore where it was not the past, but himself in the past imagining the future. The future in the past, where he saw the communal distinctions lose their distinction in well-meaning slogans raised by the members of the Student Federation: "Reinstate civil liberties! Hindus, Muslims and Sikhs unite! Long Live Congress-League unity." (Yashpal 76)
Alongside the protesting crowd choking Anarkali bazaar, Yashpal takes the readers along with the charged multitudes that cross Anarkali to spread out on the Mall Road. The procession walks past the High Court and the General Post office and reaches the Punjab Assembly Hall. Here the burka-clad Muslim women beat their chests to shame the government: "British government hai, hai!" This is Tara's Muslim friend, Zubeida, who is shouting, "Hindu-Muslims are brothers!" "Congress-League unite!..." (Yashpal 78). Then, when after the procession is dispersed, the group of young friends, including Tara and Asad, who have come to support the protesting Muslim women, begin to leave together, and with them they take the readers to Yashpal's well-trodden paths. These are the same streets, where Yashpal's Lahore breathed its inter-communal existence and politics. And where Tara, Sneha, Narendra Singh, Asad and Zuber take the route that takes them to the Lower Mall Road and the Purani Anarkali area. Walking on Nisbet Road, a few of them turned to Shabadar Mali ki Gali, and then to the Kele wali Sarak. Asad decides to first drop Zubeida on the road leading to Neela Gumbad, and then walk with Tara up to the Shahalami Darwaza:
They saw Pradyumna coming on his bicycle. Pradyumna and Zubeida walked past back together towards Nisbet Road…They (Asad and Tara) walked towards Shahalami gate through the garden…they walked through the narrow bazaar. Bhola Pandhe ki Gali was only a few steps away. (Yashpal 78-80)
It is the same Shahalami Gate, whose Shahalami ka Bazaar was set on fire in the summer of 1947. Nayyar, Kanak's brother-in-law, keeps agitating about this mysterious fire, asking how when there was a curfew and a vigilant police guard, could the place be set on fire? Puri, arrested a few days before the fire, returns home after his release from the prison and finds his spirit flagging further when he finds the landmark market completely reduced to ashes:
The once bustling and vibrant bazaars of Shahalami had been burned to the ground…From some still-standing smoke-blackened walls, broken balcony railings hung like skeletons or jutted out like the cages of giant animals. Bent and twisted water pipes and iron rods, as if they were the intestines of the burnt-out buildings, swung slowly in the wind. (Yashpal 279)
Through Puri's sudden disillusionment, Yashpal points to the burning down of the Shahalami Bazar, the central hub of the richest local Hindu merchants, as a symbolic sealing of the fate of Hindus and Sikhs, who controlled 80% of the prime property and businesses in Lahore. "Puri had lost all his attachment to Lahore. The city had been cruel to him in all manners of ways. Lahore had rejected him, he felt, and did not want him in her fold." (Yashpal 299)
Yashpal, in disbelief, tries to hold on to his Lahore through his depiction of the same characters trudging along in the lost city, going around in circles in the ghost city. As before, a certain road and a mohalla are mentioned, many of them now deserted and blackened with soot. Though completely devastated, Yashpal harkens the experiences, both blissful and gloomy, of those innumerable Jhootha Sach Lahoris as primers, over which the readers are compelled to recast their affiliations, the unreserved attachments that are for both, then and now Lahoris and Yashpal's beloved Lahore. Literally, every page is dotted with numerous landmarks. These are the memorable places where Yashpal aches to return to, and live, summer and winter, and forever. Yashpal communicates his inner feelings through Kanak's father, Pandit Girdharilal's when he reminisces about the way he had to flee Lahore with his wife:
All we want is to go back to our homeland... the house we left behind was worth one-and-half times the price you mention, built in modern style, for our own use, with full electricity supply and fans, running water, flush toilets. We had to pick it all up and leave. You must have heard about Lahore's Gwalmandi, just like your Queen's Road or Kashmiri Gate (Yashpal 534-536).
While finalizing the transaction of his house in Lahore with the Muslim owner's house in Delhi, Pandit ji "also wanted a written guarantee that if he were ever to return to Lahore and live in his house, he'd be able to claim back without paying a penalty" (Yashpal 536).
Jhootha Sach is replete with intricately captured emotional and cultural content, attuned to communicate passionately the surrogate pleasures as well as the discontents of the pre-Partition Lahore. In essence, perhaps, what Yashpal likes best of all is the rite of writing about the city that is lost to him. And what he wants to capture in Jhootha Sach is not Lahore, but his indulgence in the memory of that Lahore. The Lahore he had thought of making home, was his home that he wants to internalize and eternalize in Jhootha Sach. Because perhaps what he pines for is in him about his Lahore than there is in actual Lahore.
Lost in Lahore
I was thrilled to find myself making perfect sense of the Lahore in Jhoota Sach. My exhilaration grew when I was able to track down on Google map the route Puri and other characters take. I located the pre-1947 photos of Lahore too: Purani Anarkali police station, where Puri is interned; "Uchi Gali" where Ram Jivaya, Puri's and Tara's Tayaji, has a three-story house, "Vachowali" and "Bajaj Hatta"; the "Machche Hatta ka Bazaar," from where Tara takes a turn every day to Bhola Pandhe ki Gali on the way back from Dyal Singh College, on Nisbet Road; Dyal Singh College itself; the Amratdhara Building, from where Puri proceeds to McLeod Road where Venus Restaurant is located, where Tara goes with Asad, and Kanak goes with Puri.
It was an energizing prospect to go track Yashpal's Lahore. I had come to know after checking from different sources that the Shahalami Darwaza, and the network of lanes and the sites inside the Shahalami were intact (Siddique, Shehzad. Personal Interview. By Shabnam Khan, 5 October 2018).6 So was the street that connected the Bhola Pandhe Ki Gali vicinity with the Muslim locality of Mochi Darwaza; the Mori Darwaza where Puri goes to meet the publisher, Ghaus Baksh. But alas! Bhola Pandhe ki Gali is a fictitious street (Anand, Personal interview. By Shabnam Syed Khan, 3 November 2018)7. Another acquaintance told of a publishing house, in Krishna Gali. So, could it be the location of Pandit Girdharilal's Naya Hind Publications? I was so excited at the possibility that the Sadho Ram ki Gali where Yashpal has situated Pandit ji's house and the press may not be completely fictional.
Just when I was eagerly planning my trip to the Walled City, it dawned on me that though the Google map did give clues to the lanes in Lahore, I had never been there. So, what first clouded my initial enthusiasm about Lahore in Jhootha Sach was this heightened self-consciousness: I realized that although I live in Lahore, have lived in Lahore all my life, I still had never properly seen it. I could have visited the then-Lahore, got to know and love it more; I should have, but never did. I could have met people, who were contemporaries of Puri, Tara and Kanak, and embraced them, but did not. Was it that I lacked the essential organic intimacy with the town? The one the indigenous keepers of Lahore in Jhootha Sach possess?
Lahore is Lost
I was lost. I very clearly recall the moment of transition, when Lahore began to drift from me: I had been deeply involved in reading, taking notes on the copy of Jhootha Sach. Devouring especially the descriptions manifested in the intimate, family-like interactions of the residents of Bhola Pandhe ki Gali. Drawing parallels when Tara's bridegroom stays the first night after the wedding at the bride's home, with the accounts of the weddings of elders in my family:
Sheelo and her group of girls were trying to steal and hide Somraj's shoes…A vessel filled with water mixed with milk was placed between the couple, a ring was thrown into it, and the first one to find it was declared the winner. All the customs and rituals were over by three in the morning…Somraj was asked to rest there for what was left of the night (Yashpal 317).
I decided I would go to Shahalami. To study and follow the route that Puri, Tara, and Kanak took. However, just as I was beginning to carve a personal Lahori niche for myself alongside Kanak, Tara, and Puri, Jhootha Sach yanked me out of my Lahori self. It happened when I hit upon the name Banni Hata—the locality where Tara's in-laws live. In that rush of excitement of trooping to Yashpal's Lahore, I had forgotten that Banni Hata is the same neighborhood from where Tara escapes near death, from burning in the fire set by Muslim gangs. From where she is abducted, raped, forced to convert to Islam. My fervor dampened. All those sites are there. I could visit and take photos. However, this unexpected insight, spurned by Tara's plight at Banni Hata, proved dispiriting. The romance of Yashpal's Lahore seemed to dissipate.
Yes! The Shahalami Darwaza, Anarkali, Gwalmandi, Rang Mahal, the Uchi, Chauri galis are there. I may also find the venue of the Venus Restaurant on McLeod Road, just like I found the location of the Standard Restaurant on the Mall. They are all there, the physical landmarks, the actual buildings: Tara and Puri's Dyal Singh College, Asad's Forman Christian College, though somewhat dilapidated, stands next to the King Edward Medical College, and Nila Gumbad; the Gol Bagh, and the Upper Mall and Lower Mall. The Faletti's Hotel, where Doctor Pran Nath took refuge when his Haveli was burnt down, is intact and functioning. Arya Samaj College, Manso Gali, where there must be somewhere Urmila's house. The Shisha-Moti ki Gali, where Sheelo's husband Mohan Lal's family lives, and then the Jeevan ki Gali, where Puri spends hours in the summer heat waiting for Kanak to return from Model Town. The Purani Anarkali Thana, where Puri was interned, during the Partition riots, is still there. They are all there.
Most of the Walled City residential houses are also intact, and people live in them. But, what about the Puris, the Taras, the Kanaks, the Asads, Pradyumnas, Zubaidas, Surinders, Dr. Naths? Those who endlessly chatted, roamed, romanced, agonized, who lived in these places? Would they be there? The indigenous keepers of Lahore?
Lahore 1947
It is late June 1947, and Lahore is crunching under the unbearable weight of the suspense: is Lahore going to India or Pakistan? No longer able to suffer the anxiety, many gave in to the desire to stay in Lahore, whether Indian or Pakistani. Nayyar exclaims in relief:
Look, I've been saying all along that there'd be no reason why Hindus wouldn't be able to stay in Lahore. Look at these statements by the League and Congress—that the minorities in both countries will have the same civil rights as the majority, as well as full freedom to practice their culture and religion. (Yashpal 333)
After reading from the Statesman and Tribune, Nayyar is hopeful of a normal future in Lahore. It was the gravity of the combined Lahori self that the majority of non-Muslims decided, like Nayyar, to continue to live in Pakistani Lahore. When the Pakistani flags were unfurled on the eighteenth of August, many Hindus and Sikhs too hoisted the green and white flags on their houses. The rising incidents of violence were forcing people to move into the security of their respective Hindu and Muslim neighborhoods, but still, many had not lost the hope of continuing to live together in Lahore:
Kalicharan took the old man's hand into his own, and said in a calming tone, "Taya, all this madness won't last more than a couple of days. Those who have fled will return soon too. What if there's a Pakistan or there's a Hindustan? We're Lahorites, neighbors of Doongi Gali. Go back to your house… (Yashpal 236)
However, in the most unexpected move, close to August 1947, the Hindu and Sikh populations of Lahore were rounded up from their homes and shifted to refugee camps. A pall of gloom falls over Tara when Asad, in the DAV college refugee camp, confides in her: "Your family must have left Lahore. Hindus have either left or been forced to leave. The rest are being moved out now. That's the government policy...You won't be able to live in Lahore if you call yourself a Hindu…" (Yashpal 474)
How the forced displacement from Lahore became the foundational metaphor in the lives of Lahoris who left Lahore I gathered from Jhootha Sach. And discovered why those who came to replace them, like my family, could not recover the original ambience of the city that made Lahore Lahore. Yashpal documents this with passion, the reality about the bulk of Lahori Hindus and Sikhs, who were forced to leave Lahore. The home of their ancestors, it was when most of them had decided to stay back in the Lahore of Pakistan:
With the possibility of Lahore going to Pakistan, many… [in] Bhola Pandhe ki Gali..would...discuss the situation late into the evening. Khushal Singh and Master ji joined them. Babu Govind Ram wanted all of them to stay in Lahore...The mere thought of being posted to a different place frightened Birumal… (Yashpal 298)
Further, one of them sighs and says, "one could live and survive, if necessary, anywhere in the world, but the truth is, there's no city like Lahore" (Yashpal 298). The residents of Bhola Pandhe ki Gali pledge they will never leave Lahore. It was the homeland of their forefathers, and "they would fight to death for the right to stay in Lahore." It is unbelievable that anyone could force them to leave their homes? Birumal, who was frightened at the prospect of moving to independent India, moaned:
Bhai, that country (Cuttak in South-East) is totally different. They are also Hindus, but of a different sort. Their talk sounds like a pebble being shaken in a brass pot. The only clothes their women wear are around the waist. Bhai, their food is different, and so are their customs…. So what if the Muslims of Lahore have turned into our enemies? At least they are like us. Same language, same dress, their food too is almost the same… The only difference is between a temple and a mosque… How long can we remain enemies? (Yashpal 298, 99)
The emotions expressed in these lines are those of shared identity that bound the pre-partition Hindus, Muslims, and Sikhs. Though they were ferociously divided along their Hindu-Muslim-Sikh tribal loyalties, with the "Muslim" and "Hindu" neighborhoods demarcated along communal lines, they were united in their common Lahori identity. Yashpal thus concretizes, in the wounded voices of the forced exiles, through their physical and emotional fractured selves, the mutilated identity of Lahore and Lahoris.
I had never thought about this planned possibility of getting rid of the Hindus and Sikhs who wanted to stay in Lahore. As soon as I figured out this horrendous reality, I knew that the Lahore Yashpal eternalized in Jhootha Sach, which  made Lahore Lahore, was forever lost when Puri, Kanak, Tara, Dr. Nath were forced to leave the city.
Lohr Lohr NahiN Ai or Lahore is not Lahore
In that moment of sadness and remorse, I realized that we, the progenies of the post-1947 settlers, could only be borrowers, and not the owners of the Lahore of Yashpal. Puri perhaps wrongfully felt that Lahore had abandoned him. Because wherever he is, his eternal Lahori self will remain, irrevocably, aligned to his Lahore.
I felt strangely alienated imagining the Lahore, where the pre-Partition Lahoris like Zubeida could shout "Hindu-Muslim Bhai Bhai." Equally alien was the thought that Asad, who is invited to an exclusively Sikh ceremony, finds an occasion to eat prashad, in Lahore. Because not once in Lahore have I come across a Lahori Hindu or Sikh to experience and nurture the casual, Asad-like intimate interaction with them. I continued to feel uncomfortable when I recalled the initial sense of attachment with which I first responded to Khushal Singh's morning bhajans, and Kaula the Naun's professional rendering of the mourning ritual of syapa when Puri's grandmother dies:
All the women who participated in syapa, wore black lehangas and large cotton chadors made of thick muslin, colored with diluted ash... The naun sat between both the daughters-in-law…the naun chanted the laments remembering the old woman…The women took up the refrain, Hai, hai beloved mother…Then the women began to beat their chests with their hands in a steady rhythm…There was a definite pattern in this tradition of mourning and breast-beating. (Yashpal 5, 6)
It is ironic that these powerful cultural tropes, which first stirred a curiously strong attachment to Yashpal's Lahore, have placed me in the awkward position of an outsider in my own, the now-Lahore.
Yashpal's Lahore Becomes Mine
As I see it, Jhootha Sach gradually ushered me in an unexpected transformed state of realization about the city of Lahore. Just as Jhootha Sach was an enlightening moment about the Other's loss, I realize that it was a destabilizing moment due to another loss—the loss of the segment of my own long-settled identity as a Lahori. A moment, which without any warning had usurped my smug ownership of the elemental beauty and the gusto at the heart of the popular truism Lohr Lohr ai. Jhootha Sach has led me, supposedly a Lahori, to an alternative panorama of this storied city of the Indian Subcontinent, where I find the characters of Jhootha Sach bringing forth the Lahore, their Lahore, one I did not know, and coax me to gaze at it, accept it and not gaze through it, and ignore their Lahore.
The pre-Partition Lahoris made me overly conscious that it was the imagined, unlived Lohr Lohr ai identity that I, and others like me, the post-1947 now-Lahoris, have imbued without ever getting to know the Lahore, where a flexible communal living endowed it with its much admired and unique historic identity. Caught between my loss and the loss of the pre-Partition Lahoris, I came face-to-face with how the 1947 partition vanquished Lahore and the Lahoris and deprived Lahore of its organic identity. It is for this reason that I am now reluctant to look for Yashpal's then-Lahore in the now-Lahore. The city I am no longer looking for heaved with its once inextricable cultural motifs, the bhajans, the prashads, the syapas. Now I know that when silenced, when divested from their center, these essential cultural tropes did not evaporate alone, they took the soul of Lahore with them.
However, while Yashpal's Lahore destabilized my Lahori self, it unleashed at the same time a craving for the Lahore where Puri shares the camaraderie of asking a Muslim friend to walk back with his sister Tara to home, where I could also claim, "Hindu-Muslim Bhai-Bhai," and like Asad, lick prashad from my fingers.
I know from Jhootha Sach that there were exclusive Muslim enclaves like Mochi Darwaza, Raj Garh. The mohallas which were solely for Hindus, included the fortified Shahalami, Rang Mahal, Krishna Nagar, Dev Nagar long before the idea of Partition was even entertained. There were indeed particular kinds of jewelry, outfits, and utensils termed as "Musalmani" (Muslim). Likewise, there was "Hinduani" (Hindu) clothing. No doubt there were lingering hostilities and stringent distinctions between the two communities drawn through the associative professions:
Now Hindus will sell vegetables and fruits and demean themselves to do the job of a rai and kunjara, they will work as gujjars and sell milk, will do the lowly job of washing other people's clothes as dhobis do, will make shoes, and defile their caste by being dyers of cloth. (Yashpal 57)
Yashpal is on Both Sides
Still, in this ultra-communal, but one India, Yashpal rejected the communal politics. Indeed, Lahore was lost to Pakistan. And Partition had already taken place, yet the luster of his nonpartisan stance comes across transparently when he writes with equal conviction the atrocities perpetrated by Hindus, Sikhs and Muslims. His depiction of cruelty and suffering is convincing because he is on both sides. By suggesting the concept of collective consciousness and responsibility, he leaves this huge scope of congenial coexistence for posterity.
Throughout he shows this rare psychological capacity of seeing both the perspectives that only adults with higher forms of moral self are able to exercise with pristine unselfconsciousness. In Jhootha Sach there is an astounding amount of data, which when analyzed through the lens of human development parlance, Yashpal's posture, on the historic tragedy of 1947 Partition, comes across as a form of psychological and moral high art; he is not protective of own turf, he shuns what is termed as "group appetite" (Kegan and Lahey, How The Way You Talk Can Change the Way You Work 284). Tirelessly, he invites everyone, through the persona of the pre-1947 Lahore, to take a kind of residence in the Other's universe, so that the people remain united even after Partition: These borders! / What of them? 'A la Edward Said's "imaginary geography" (Said 77)! Energized, I want to head out to the then-Lahore, hoping to find Bhola Pandhe ki Gali. Hoping that someone there might open some door, and I would grab that someone and exclaim: "Remember me?"
I am overcoming the homesickness, the kind Yashpal experiences for Lahore. I am developing a yearning for a new type of reunion with Lahore, in a way that the Lahore of Yashpal becomes my own. And mine his. That is if I take residence in the Universe that is inhabited by Puris, Taras, Kanaks, Dr. Naths, then Lahore may not disclaim me. Lahore is mine if I know that it is also his—Yashpal's. It is simple: I just have to shift my position: from gazing through Lahore to gazing at Lahore. Yeah! It is only a matter of changing one's position of gazing! In other words, like Yashpal I see the alternative reality of the Self-as-Other or the Other-as-I. With the change of respective positions, as portrayed in the digital art, "Lahore becomes my own / It was only a matter of changing my position of gazing," the perspectives of both Indians and Pakistanis would change-and they may feel that the making of the sense of both, the One-Nation and the Two-Nations, is not as taxing as it is from their existing points of perceptions (Check Digital Art).
***
<![if !mso]>

<![endif]>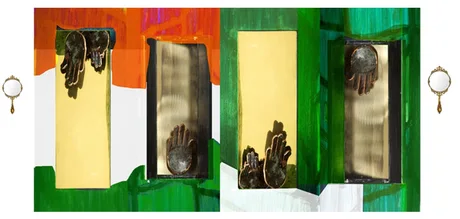 <![if !mso]>

<![endif]>
Figure. 1. Digital Art. "Lahore becomes my own / It was only a matter of changing my position of gazing."
<![if !mso]>

<![endif]>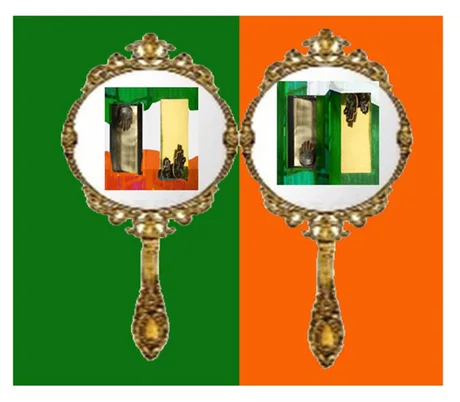 <![if !mso]>

<![endif]>
Figure. 2. Digital Art. "Lahore becomes my own / It was only a matter of changing my position of gazing."
***
About the Author
Dr. Shabnam Syed Khan, former Visiting Professor and Teaching Fellow at Harvard University, has a Doctorate from Harvard University, and Masters from Massachusetts College of Art and Design. She has taught in different universities in Pakistan. Her education in history, human development, history, art and design forms the backdrop of her interdisciplinary approach to teaching, learning, and her unconventional art-based research and research-based art practice, which she employs in her teaching and presentations at conferences, and lately for publication. At present, she is Visiting Professor at the Beacon House National University, Lahore, Pakistan, and practices wellness and lifestyle counseling.
***
Notes
Digital Art Work. Explanation & Description. Inspired by Robert Kegan's theory of adult development, I used the concept of "learning to look at what before we were looking through" (Immunity to Change p. 53) to compose the Digital Art Work, "Lahore becomes my own / It was only a matter of changing my position of gazing." The digital art piece is created by using the "One-Nation" or the "Two-Nations," the 1947 Partition quandary, as a symbol. The two digital visuals (Fig. I and Fig. 2) project alternative realities, of "One-Nation" or the "Two-Nations," inside the two sets of frames. Emblematic of identity and personhood, both the frames contain different arrangements of hands or palms, which are encased in the colors of Indian and Pakistani flags. Inside the first set of frames (Fig 1), the one frame contains a single upright and two inverted palms, against the backdrop of the tricolors of the Indian flag (Indian reality). The opposite arrangement, of the two upright and one inverted palm is composed inside the frame with two colors of the Pakistani flag (Pakistani reality). Both signify the rigidity of the existing perceptions; from which both Indians and Pakistanis look through the other's stance on "One-Nation" or "Two-Nations" as erroneous and iniquitous. On the sides there are two vacant hand mirrors waiting to be picked up and used. The symbolism of mirrors is akin to a filter facilitating an alternative view of the Self. The second digital visual (in Fig. 2.) reflects inside the frames of the two hand mirrors—now picked up and used—the alternative realities: the image of two upright palms, and one inverted are embraced by the Indian orange, white, and green. Embedded inside the Pakistani green and white, there is one upright and two inverted set of palms. This second visual (Fig. 2) is conceived as a metaphoric invitation to the warring sides, to consider changing their rigid positions (Fig. 1) to look at, and not see through, the alternative-reality of the Self-as-Other or the Other-as-I.
EDD. I have used EDD as a research methodology, because it supports the interdisciplinary exploration and documentation of emotionally driven durable and sustainable art and design products, capable of making meaningful and lasting relationships with their users. Based on the emotional and aesthetic experience of reading Jhootha Sach, the paper, Jhootha Sach: Yashpal's Lahore & Mine, is an artistically conceived and designed research product, which is meant to sow and unleash long-lasting emotional and transformational behaviors among its readers

.
The

MindfulApp

.

The usage of the term App in the title of the interdisciplinary research-based installation, MindfulApp alludes to the desired symbolic mental downloading of its message of developing psychological maturity of entertaining multiple narratives. The first segment of the two-part MindfulApp comprises of the written piece, "Jhootha Sach: Yashpal's Lahore and Mine." The second is the digital art (Figure. 1 & Figure. 2)

 

entitled "Lahore becomes my Own / It was only a matter of changing my position of gazing." It can be downloaded from Sindhu.
Lahore (the movie): https://www.youtube.com/watch?v=i-DlLEYMfzoNargis, Karan Dewan, Directed by M. Lutt-Putt: https://youtu.be/Y4NAnHPei00
Lahore Song: https://youtu.be/mCI-q1Vd3IU
Munde Lahore De (song): https://youtu.be/a5iEU3zHd3Q
Makes its way into imagination: https://youtu.be/rbVc7KlrD5
"Lahore" (song): https://youtu.be/K51PGNjto1A
"Nakhra ai Lahore dai" (song): https://youtu.be/K51PGNjto1A
"Lhore da paranda" (song): https://youtu.be/s96nPSDOma8
Guru Randhava (song): https://youtu.be/dZ0fwJojhrs
Bollywood's film Sagai (1951) celebrates Mall Road 'as thandi sarak' in the voice of Rafi and Shamshad, YouTube: https://youtu.be/LYCgtR8Wls4 "It is Lahore today!"
Mrs. Anjana Khurana, mother of Dean Rakesh Khurana, Faculty Dean of Cabot House and Professor, Harvard University, described her one-hundred room family house on 1

Sanda

Road, Lahore, first in a meeting in 2014. We also exchanged emails.
Works Cited
Ahmed,

Ishtiaq

. "Centenary of

Krishan

Chander

." The Daily News. 3 Nov. 2014.

https://dailytimes.com.pk/105978/centenary-of-krishan-chander/
2. Arshad, Said H. "Lahore's art and culture celebrated at NYU Urdu Conference." Daily Times. 10 Nov. 2018. https://dailytimes.com.pk/320237/lahores-art-and-culture-celebrated-at-nyu-urdu-conference/
3. Chapman, Jonathan. Emotionally Durable Design: Objects, Experiences and Empathy. Earthscan, 2005.
4. Dalrymple, William. "The Great Divide." The New Yorker. 22 June 2015. https://www.newyorker.com/magazine/2015/06/29/the-great-divide-books-dalrymple
5. Friend, Corinne. Yashpal Looks Back: Selections from an Autobiography. Vikas Publishing House Pvt. Ltd., 1981.
6. Elham Ghazazani; Amir Abbas Alizamani. "A Comparative Study of Martin Buber and Rumi on God-Man Relation." Religious Inquiries, 3 (5), 2014, 83-95.
7. Haq, Maulvi Abdul. Chand Hamsafar. (My translation).Urdu Academy Sind, 1984.
8. Hassan, Memood Ul. Lahore: Shehar E Purkamal. Lahore: Book Corner, 2020.
9. Hussain, Intizar. Charaghon Ka Dhuan. Sang-e-Meel, 2012.
10. Hyder, Qurratulain. Kar e Jahan Daraz Hai. Sang-e-Meel, 2001.
11. Kamra, Sukeshi. "Ruptured Histories: Literature on the Partition." (India, 1947, Kunapipi, 25(2) 2003. https://ro.uow.edu.au/kunapipi/vol25/iss2/1
12. Kegan, Robert and Lisa Lahey. Immunity to Change. Harvard Business Review Press, 2009.
13.---. How the Way We Talk Can Change the Way We Work. Jossey-bass. 2001.
14. Kumar, Indira. "My Memories of Lahore and the Partition." India of the Past: Preserving Memories of India and Indians. 2012. http://www.indiaofthepast.org/indira-kumar/life-back-then/my-memories-lahore-and-partition
15. Lal, Ram. Zard Patton Ki Bahar. Suraj, 1981.
16. Mahmud, Salma. "Rai Bahadur Kanhaiya Lal's Lahore is Gone Forever." Lahore Nama. 9 Nov. 2010.  https://lahorenama.wordpress.com/2010/11/09/rai-bahadur-kanhaiya-lals-lahore-is-gone-forever/
17. Mufti, Mumtaz. Alakh Nagri. Al-Faisal Nashran, 2010.
18. Naghmi, Abul Hassan. Ye Lahore Hai. Sang-e-Meel, 2003.
19. Nevile, Pran. Lahore: A Sentimental Journey. Penguin Books. 1993.
20. Papan-Matin, Firoozeh. "The Crisis of Identity in Rumi's 'Tale of the Reed'."  G E von Grunebaum Center for Near Eastern Studies. 2005. https://escholarship.org/content/qt4qr0x826/qt4qr0x826_noSplash_c092e180662a976c91d3397c848bbb67.pdf
21. Parekh, Rauf. "Literary Notes: Kanhaiya Lal Kapoor and his Satirical Writings." Dawn.    18 May 2015. https://www.dawn.com/news/1182606
22. Roy, Abhik. "Martin Buber and Rabindranath Tagore: a Meeting of Two Great Minds." Comparative Literature: East & West, vol. 25(1), 2016, 30-42.
23. Said, Edward. Orientalism. Penguin Random House, 1978.
24. Shashank. "Chittagong. Lucknow. Lahore." Shashank Redemption. 20 Oct. 2017. https://theshashankredemption.wordpress.com/2017/10/20/chittagong-lucknow-lahore/
25. Singh, Khushwant, Sandhu, Manleen, and Singh, Bhai Baldeep. "Oral history with Khushwant Singh". Stanford Digital Repository (. 27 Aug. 2013. https://exhibits.stanford.edu/1947-partition/catalog/kv282sx8286
26. Yashpal. This Is Not That Dawn. (English translation of Jhootha Sach, by Anand). Penguin Books. E-Book, 2010.